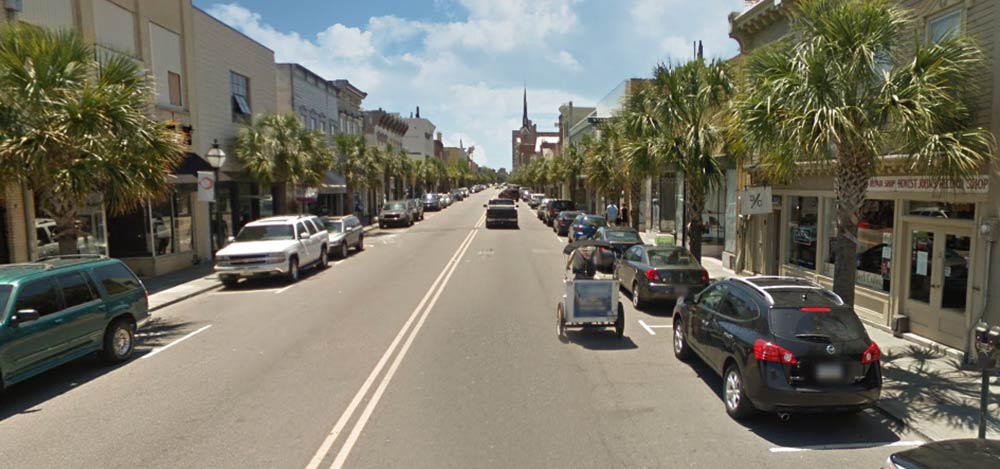 The midtown section of Upper King Street is a business district coming back from many difficult years. Where store fronts were previously boarded up, restaurants and bars now light up the plate glass windows.
Tucked between the food and drink options are interesting local shops—like Blue Bicycle Books and Affordabike—that you won't find in every mall in the world.
The area also boasts several large hotels, including the Francis Marion Hotel, opened in 1924; the Hyatt Place Charleston, which opened in 2015; and the Hotel Bennett, which opened in February 2019.
On either side of King Street, down cross streets to parallel streets, you find students from the College of Charleston, The Citadel and Trident Technical College living in dorms or old houses split into multiple apartments. In the last few years, derelict buildings have been replaced with multistory apartment complexes that have a broader demographic, but still include a large number of students.
Midtown King Street still has empty buildings and lots of possibilities as it continues to address the needs of students, tourists and locals. In the meantime, check out a few restaurants and bars that offer some pretty exciting possible directions!
Charleston Beer Works
480 King St., 11:30 a.m.-close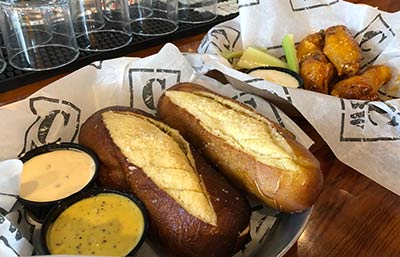 Charleston Beer Works is a great place for college students and sports fans. TVs keep you updated on sports news until there's a game that needs watching. The impressive line of taps runs the length of the bar and rotates beers from local breweries with a special focus on one local brewery each month, plus craft breweries from other parts of the country. If you prefer cocktails, Charleston Beer Works pours classic bottles of bourbon, whiskey, gin, rum and local varieties as well.
Lunch, appetizers and dinner options feature fresh, locally-sourced ingredients. Breads, including the Local Pretzel, come from Saffron Bakery on East Bay Street. The Local Pretzel consists of two warm loaves of pretzel bread, sliced and served with beer cheese queso and beer mustard. The dipping sauces are flavorful alone, and particularly tasty when combined.
Crispy, delicious Buffalo wings come in servings of six, 12, 25, and even 50 and 100. Sauces range from the zero-pepper rated Carolina Gold through one-pepper low and two-pepper medium heat like the hot honey garlic and the honey Sriracha, right on through to a three-pepper heat house hot, with other flavor options at each level. Wings are served with celery, carrots and a choice of ranch or blue cheese dip.
If you want a full meal, check out the house-ground all-beef burgers, chicken sandwiches, house-made soups and salads.
Monza Pizza Bar
451 King St., 11 a.m.-10 p.m.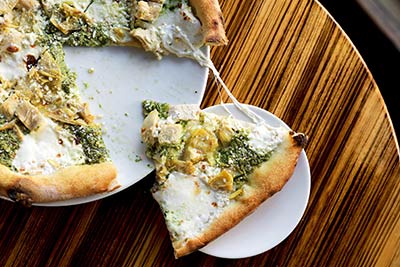 Monza uses fresh, locally and regionally sourced ingredients whenever possible. For some items like their Neapolitan style pizza crusts, Monza brings in the flour and yeast from Italy.
Beers are local, Italian and Miller Lite. Wines lean toward the Italian for both house pours and bottles, and several cocktails include Italian ingredients like limoncello, Campari and prosecco. One notable exception is the Bourbon Slush, concocted from bourbon, lemon and sweet tea for a defiantly Southern alternative.
The menu offers lovely Italian options including Neapolitan style wood-fire baked pizzas. Design your own with a choice of sauces (tomato, pesto, olive oil); cheeses (mozzarella, ricotta, goat); vegetable toppings (including tomatoes, artichokes, mushrooms and olives); and meats (including pepperoni, house-made sausage and bacon). Or choose one of the specialty pizzas like the Volpini, with fresh tomato sauce, prosciutto, arugula and pecorino Romano, or the Ronnie Peterson with oven-roasted chicken breast, artichokes, arugula pesto, ricotta, mozzarella and garlic.
Monza also serves delicious salads as sides and entrees, including the chicken Milanese, with crispy chicken scaloppini, capers, arugula, grape tomatoes, red onion and pecorino Romano, and an entrée Caesar salad with your choice of shrimp or roasted or fried chicken.
If neither pizza nor salad satisfies your Italian cravings, check out the lasagna or one of the pastas topped with Bolognese, carbonara or vodka sauce.
Barsa
630 King St., 12-10 p.m. Mon.-Thurs.; 12-11 p.m. Fri.-Sat.; 11-10 p.m. Sun.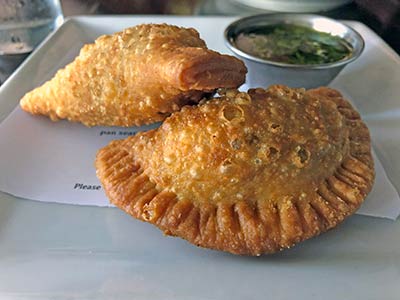 Spanish-style tapas with a Lowcountry infusion of fresh shrimp and fish puts Barsa in its own niche. Pick a few plates to share from the varied menu. The fillings for the empanadas and croquettes change daily, but the structure and flavors (the empanadas are tender, crisp turnovers, and the croquettes are fried, breadcrumb-coated deliciousness) make a good starting point for shared snacks. Add some vegetables like roasted brussels sprouts or beet salad, some seafood like smelts, local shrimp, calamari or grilled octopus, and round it off with some dates stuffed with manchego cheese, jamon serrano and a balsamic reduction, and you've got a great start!
The extensive wine, beer and cocktail lists provide options local to both the Lowcountry and Spain, as well as other American and international choices.
Barsa serves traditional paella made-to-order with choices of vegetable, seafood, chicken and chorizo. Paella requires at least 30 minutes to prepare and is only served in-house.
The Ordinary
544 King St., 5 p.m.-close, Tues.-Sun.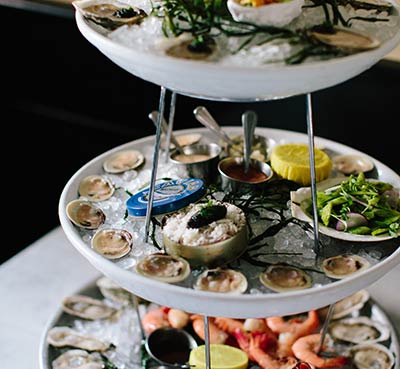 Walk into The Ordinary in the early evening when the light streams through the tall windows on the left side of the restaurant, across from the mirror-backed bar. The staff bustles efficiently and gracefully, taking excellent care of diners' needs and desires.
Like all the establishments listed, The Ordinary has an extensive wine, beer and cocktail list, making available several local options. And, like other restaurants, The Ordinary uses fresh, locally and regionally sourced ingredients.
But The Ordinary takes both the beverages and the food to a higher level. The menu changes seasonally and daily with cold, oyster bar and hot options changing as ingredients become – or stop being – available. A menu section called The Ordinaries offers meal options by the day – for example, on Tuesdays you can order the lobster roll, and Sundays you can get the fish fry.
Walk-ins are welcome; the bar is first come, first served and offers guests the whole menu. Reservations are available through Resy.
Just go – you'll be glad you did!
5