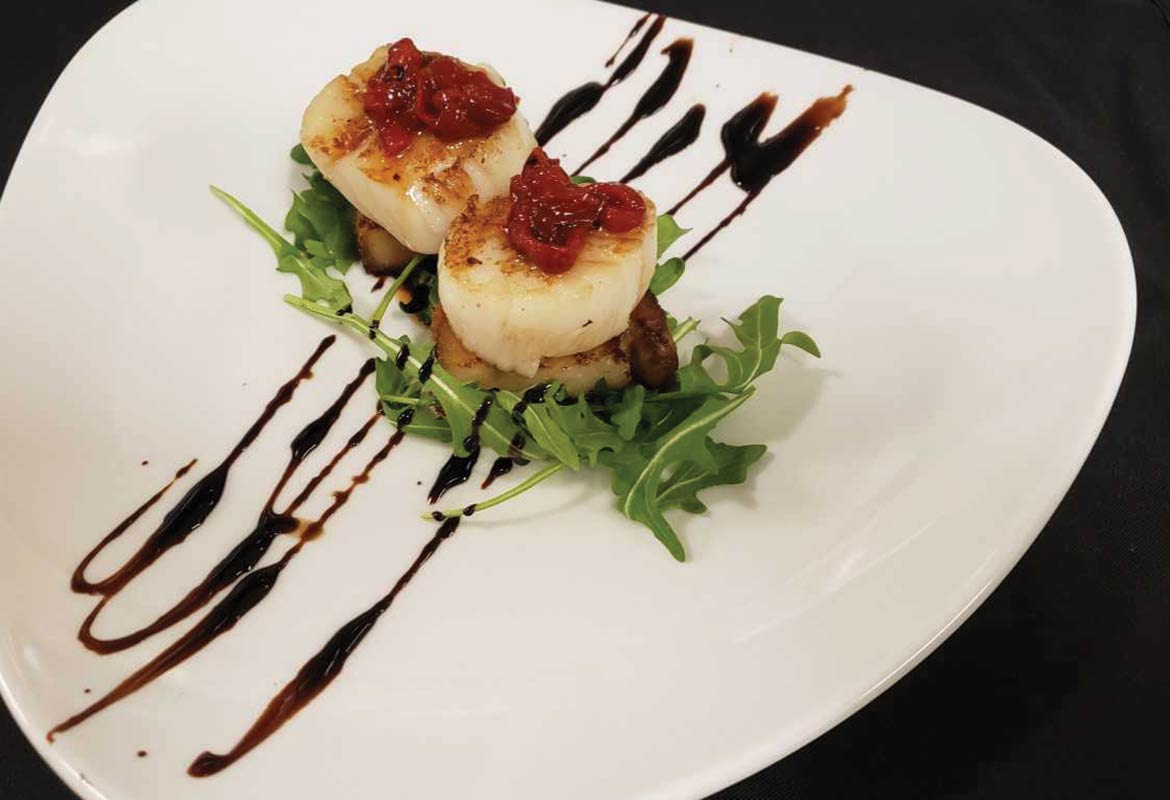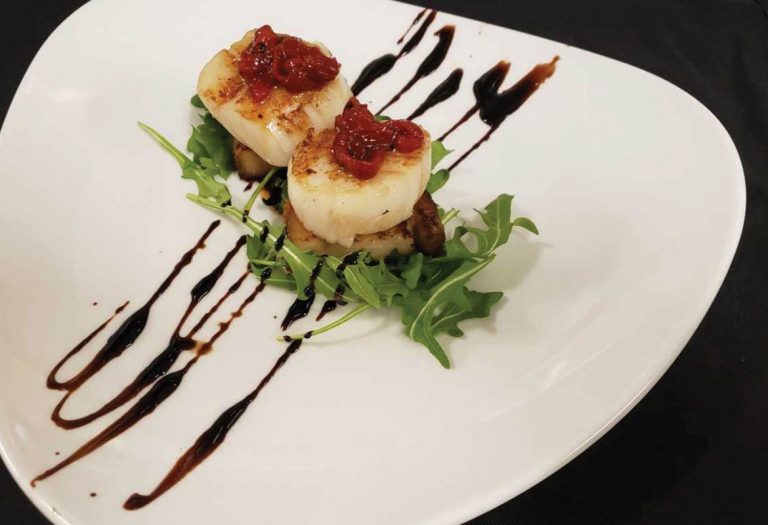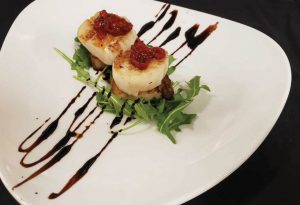 Print
Scallops and Pork Belly
Ingredients
U10 fresh dry-pack scallops, 4 each
6 ounces slow-braised pork belly (do not substitute bacon)
2 red peppers
1 lemon
2 cups sugar
4 tablespoons olive oil
2 tablespoons white balsamic vinegar
1 ounce fresh arugula
1 cup red balsamic vinegar
1 cup chicken stock
Kosher salt
Smoked paprika
1 teaspoon crushed red pepper
1 pound light brown sugar, divided
Pepper jelly, for garnish
Instructions
Day One: Pork belly
Preheat oven to 180 degrees. Coat pork belly heavily with half of the brown sugar, kosher salt, black pepper and smoked paprika. Wrap tightly with aluminum foil and cook for 12 hours. Cool.
Day Two: Scallops
Preheat oven to 450 degrees. Coat red peppers with 1 tablespoon oil and place in hot oven, cooking until peppers start to blacken. Remove peppers and place in a bowl, then cover with plastic wrap. Let peppers steam for about five or 10 minutes. Rinse peppers under slow running water and remove all seeds and stem, then dice them.
In a pot, add the balsamic vinegar, chicken stock and other half pound of sugar. Reduce until it coats the back of a spoon. Add to this the diced peppers, lemon juice and crushed red pepper. Simmer all together and reduce until it can coat a spoon. Chill.
Clean scallops. Dry well, place on thick paper towel until ready to use.
Cut pork belly into 1-inch squares.
Sear scallops in olive oil until brown on both sides (do not overcook; it should be a little under-cooked in the middle).
At same time as scallops, sear pork belly until browned and warm in the middle. On a plate, place a small bed of arugula. Place two pieces of pork belly down, put a scallop on top of the pork. Garnish with pepper jelly.
Paint plate with a drizzle of balsamic glazes.
19