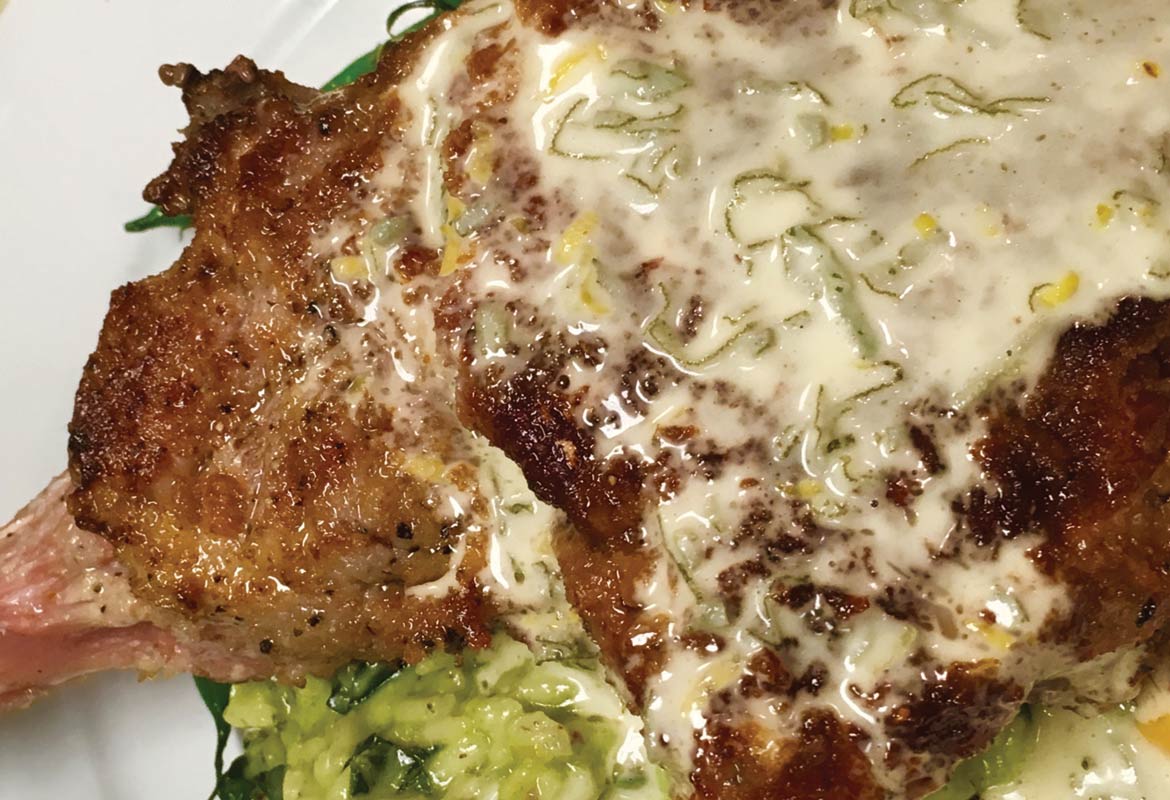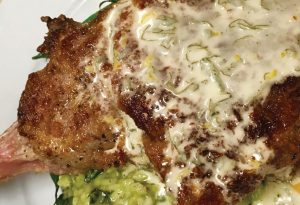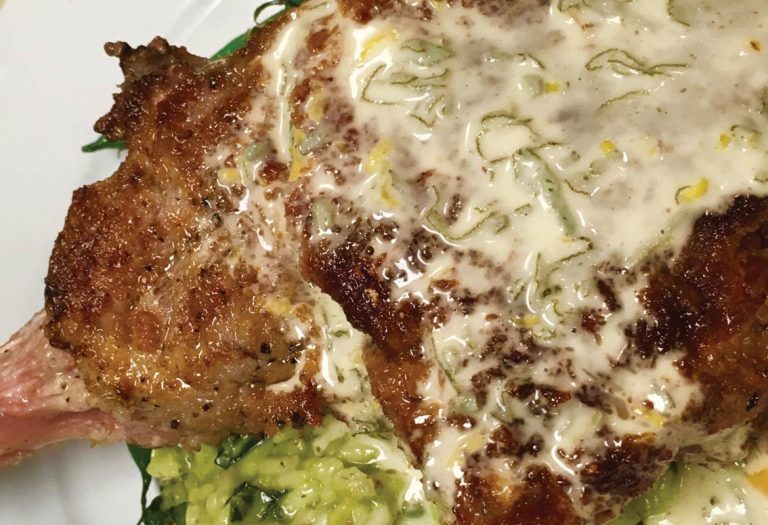 Print
Langdon's Restaurant & Wine Bar's Veal Chop Saltimbocca with Roasted Garlic-Spinach Risotto and Lemon-Sage Butter
Ingredients
14-oz. bone-in veal chops
4 oz. thinly sliced prosciutto
3 oz. fresh sage, finely chopped
1 cup panko
½ cup grated parmesan cheese
2 cups Arborio or carnaroli rice
6 cups chicken stock
1 large yellow onion, finely chopped
5 cloves of garlic, thinly shaved
1 head roasted garlic
2 oz. fresh Italian parsley
2 oz. fresh basil
½ lb. fresh spinach
½ lb. unsalted butter, softened
zest of 2 lemons
2 oz. olive oil
½ cup Chardonnay
½ cup Parmesan cheese
Instructions
Roasted Garlic-Spinach Risotto
In a blender or food processor, puree the roasted garlic, basil, Italian parsley and a cup of fresh spinach until smooth. Set aside. In a small sauce pan, bring chicken stock to a simmer. In a large sauce pan over medium heat, toast the rice in olive oil until fragrant and very lightly browned – about three minutes. Add the onions, shaved garlic and a healthy pinch of salt and pepper, and continue sautéing for three to four more minutes. When the onions become translucent, add the wine and continue stirring. Once the wine has been absorbed, begin adding the chicken stock a couple ounces at a time, stirring continuously until all the stock has been absorbed. When the rice is cooked, add the roasted garlic/herb puree and the rest of the spinach. Adjust the seasoning to taste and finish with ¼ cup of Parmesan cheese.
Lemon-Sage Butter
Whisk lemon zest, half of the chopped sage, salt and pepper into the softened butter. You may add lemon juice as well if you prefer a more intense flavor. This butter can be made ahead of time and refrigerated for up to a week.
Veal Chop Saltimbocca
Combine ¼ cup of Parmesan and half of the chopped sage with panko, season with a little bit of salt and pepper in a large mixing bowl and set aside.
Preheat the oven to 400 degrees.
Pound the veal into a ¼ inch thick cutlet. Season with salt and pepper. Cover the entire cutlet on both sides with the ham, pressing it to adhere. Once the veal is wrapped, liberally coat with olive oil, then dredge in the bread crumbs and place on a greased baking pan. Bake for 15 minutes, flip the veal over and return to the oven for 15 minutes longer.
1