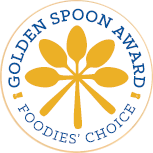 The following restaurants received votes in the 2017-2018 Golden Spoon competition. Read more about the Golden Spoon Awards.
The Lowcountry Cuisine staff can't help but notice how excited readers get about food. That's why we introduced the Golden Spoon Awards as a way for restaurants throughout the tri-county area to hear good news from the locals. Basically, it's a way to say "I love you" to your favorite restaurants and let them know they've given you a good experience.
The awards consist of five different categories: ambience of the restaurant; quality of service; quality of cuisine; selection of beers, wines and cocktails; and overall restaurant value. Each category is represented by a spoon, and the more spoons a restaurant has, the better. We are looking forward to hearing more about your favorite restaurants again next year. We urge you to share the news of the Golden Spoon Awards with your family and friends at www.GoldenSpoonAwards.Restaurant.
Brought to you by:

167 Raw
Acme Lowcountry Kitchen
Amalfi's
Amen Street
Angel Oak
Art's Bar & Grill
Bacco
Basil
Bistro Toulouse
Blossom
Bonefish Grill
Bowens Island Restaurant
Bricco Bracco
Burtons Grill & Bar
Burwell's Stone Fire Grill
Charleston's Café
Cinco Tex-Mex
Clean Eatz
Coast Bar and Grill
Coleman Public House
Crave
Dog & Duck
FIG
Five Loaves
Fleet Landing
Graze
Halls Chophouse
Hank's
Harold's Cabin
High Thyme
Home Team BBQ
Hyman's Seafood
Jestine's Kitchen
Langdon's
Leon's Oyster Shop
Long Island Café
Magnolias
Minero
Morgan Creek Grill
Mozzo Deli
Nirlep Indian Restaurant
Not Just Franks Cafe
Old Village Post House
On Forty-One
Page's Okra Grill
Pattaya Thai Restaurant
Pier 41
Poe's Tavern
R.B.'s
Red Drum
Red's Ice House
Saveurs du Monde Cafe
See Wee
Shem Creek Bar & Grill
Slightly North of Broad
Smoke BBQ
SOL
Stars Rooftop and Grill
Sullivan's Restaurant
Sunflower Cafe
Tavern & Table
Tbonz Gill and Grill
The Boathouse
The CODfather
The Obstinate Daughter
The Park Café
The Pickled Palate
The Red Pepper
The Refuge
The Shelter Kitchen + Bar
Water's Edge
Wild Olive
2