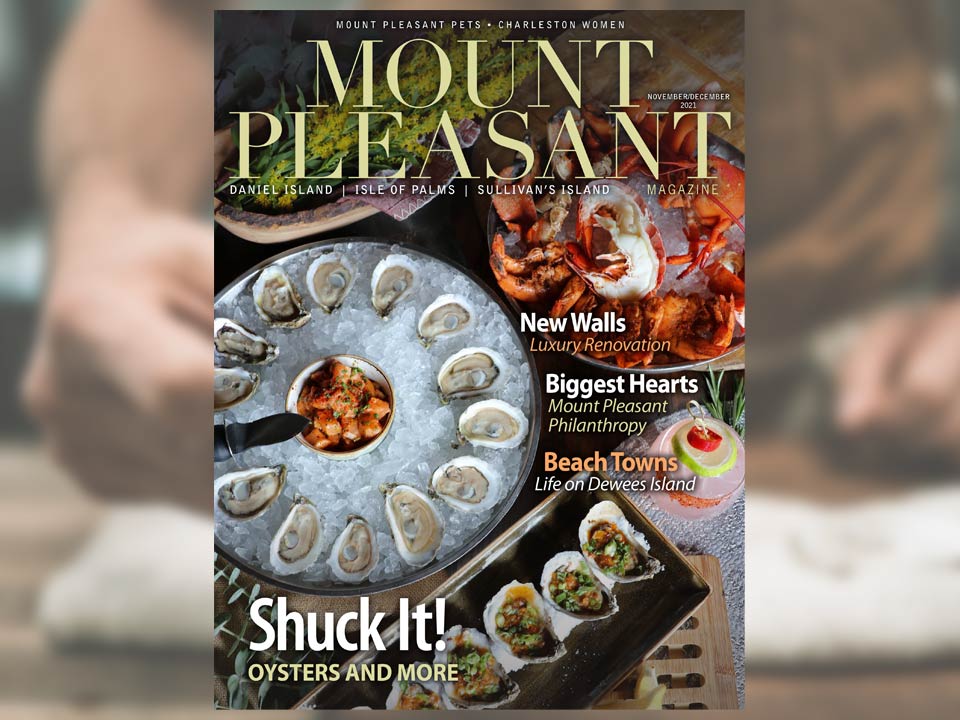 This issue's cover shot is a seafood spread orchestrated by Tavern & Table, a Mount Pleasant restaurant with a beautiful waterfront view of Shem Creek. Photographed by Chad Klimaszewski of 12pt Creative, this stunning capture highlights the various coastal themes found within this issue of Mount Pleasant Magazine and pays homage to our Southern winters and holiday traditions, particularly the culinary ones.
For this photo, we chose to showcase dishes that are traditionally enjoyed during the holiday and winter months, though many are now available all year long — flip to our article about oyster farming by Colin McCandless on page 33 to see what we mean.
The photo highlights two main types of seafood: a heaping plate of crab, served chilled on ice to preserve freshness and taste, and succulent oysters, presented here by the dozen. Prefer your oysters a bit more cooked? Try the delicious fire-roasted oysters, served here with "casino butter," bacon, peppers, garlic and parmesan cheese. Rosemary and eucalyptus also adorn the table for added beauty and ambience.
Andy Palmer, partner at Tavern & Table, and Klimaszewski collaborated with Mount Pleasant Magazine staff to curate the finished cuisine and the table arrangement, right down to the colors in the photo. The result is a festive yet coastal and colorful look, just in time for the holiday season. We hope you enjoy feasting on this cover with your eyes as much as we enjoyed capturing it. Happy holidays.
2