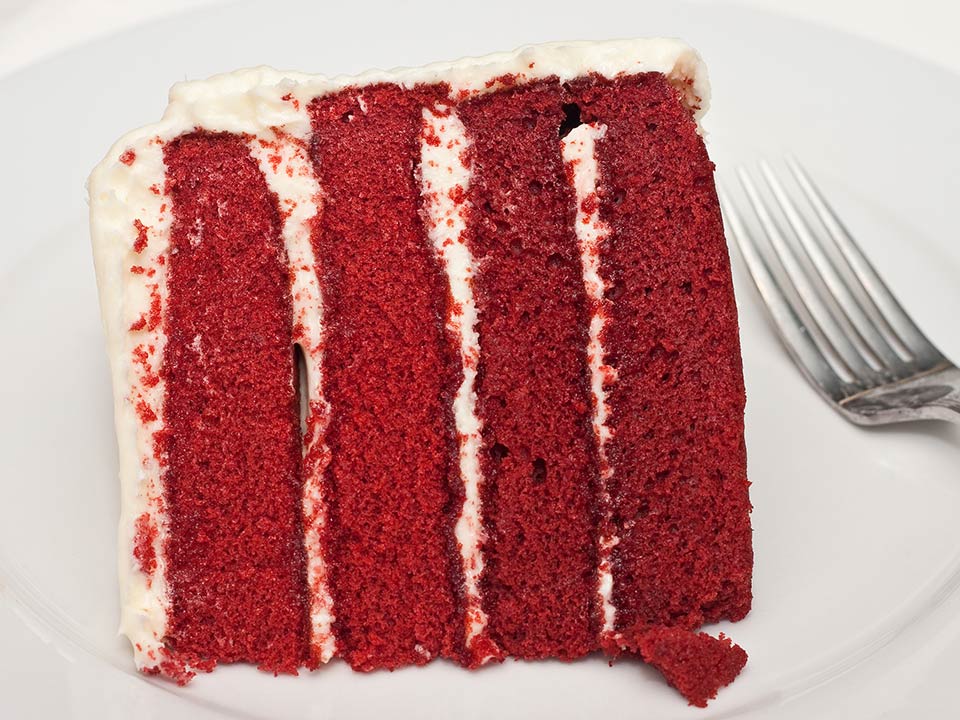 It may surprise you to learn that red velvet cake wasn't always red. In fact, it started as just plain old "velvet cake." Research the topic of red velvet cake and you'll quickly discern that its culinary provenance is complicated, and at times even a bit controversial.
The confection is believed to have originated in the Victorian Age, and the word "velvet" was used to describe the dessert's texture. Early recipes used almond flour, cocoa or corn starch to break down the protein in flour and create its moist, dense feel.
Devil's food cake became popular around the same time as velvet cake, and in the early 1900s a hybrid of these two recipes was merged to create a "velvet cocoa cake."
During the Depression, the dessert increased in popularity because people could substitute cheap, raw cocoa powder in place of the more expensive chocolate bars. In Southern states, buttermilk was added to the recipe, and the mixing together of this acidic ingredient with baking soda and cocoa is said to have caused a chemical reaction in the cocoa that produced a reddish-brown tint.
We now associate a brighter red with red velvet cake, but that is thanks to the magic of food coloring. It is purported that the modern version of red velvet cake was first served at the Waldorf Astoria in the 1930s.
By the 1940s, the Adams Extract Company, which sold food dyes and flavor extracts, popularized the red in red velvet cake through its recipe cards featuring red dye as an ingredient for its version of the dessert. The recipe took hold and the rest is food color history.
Today, people concerned about the potential health effects of red dye can substitute red beet juice as a form of natural coloring to replace it. In fact, during World War II, bakers used boiled beet juice to color their cakes in addition to food dyes.
Now that's some food for thought.
By Colin McCandless
2