Whether you're searching for a gift for the foodie in your life or are simply on the hunt for something to give your dishes some extra flair, Charleston's specialty food stores are the perfect place to spend a Saturday afternoon. If you're hunting for a unique cheese, exploring new wines or sending relatives home with heirloom grits, you're sure to leave with exactly what you're looking for, plus a deeper understanding of what makes Charleston foods special.
goat. sheep. cow.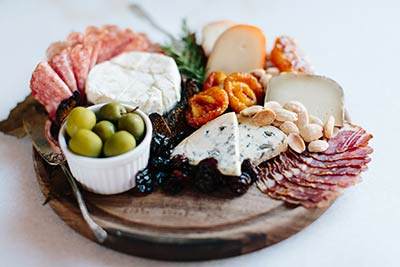 Whether you're a cheese fanatic or more of a casual admirer, standing in front of a counter full of cheese in all shapes and sizes can feel overwhelming. At goat. sheep. cow., friendly mongers know that helping you select the perfect cheese is as easy as asking a few simple questions, sharing their knowledge and giving you the opportunity to sample their unique products. New cheeses are flown in from New York on a weekly basis, allowing them to offer a curated selection not often seen in smaller cities like Charleston.
While cheese is certainly the star, shelves are stocked with everything you'll need to create the perfect cheese board, including an array of jams, mustards, cornichons and honey. If your plans aren't conducive to laying out a full spread, they have you covered with a selection of crackers from The Fine Cheese Co. Try lemon sea salt crackers paired with fresh cheeses like ricotta, or spread rich blue cheese on delicious toast with cherries, almonds and linseeds.
goat. sheep. cow. has two Charleston locations, 106 Church St. (retail only) and 804 Meeting St., Suite 102, (retail, café and wine bar). For more information, visit goatsheepcow.com.
Edmund's Oast Exchange
Edmund's Oast Exchange is more than a place to purchase wine and beer. Their passion for education, paired with an unparalleled selection of wines from small independent producers, ensures that every shopping trip will end in a new discovery.
Over 1,500 wines are organized by country and region, making it easy to find your favorites. Sarah O'Kelley, general manager and certified sommelier, and her team eagerly await questions so that they can introduce you to something exceptional like Kelly Fox pinot noir, which O'Kelley touts as a perfect hostess gift. Produced in Oregon, this natural wine appeals to a wide range of palates and is adorned with a lovely label sure to pique the interest of anyone receiving it. While there, pick up a book about beer and wine or select gift-worthy, small-batch items like mustards, sauces and spreads.
The experience at Edmund's Oast Exchange doesn't end at the register; the store offers numerous educational events, from Wednesday Blind Tastings to Somm School, a 12-week entry-level certification course.
Edmund's Oast Exchange is located at 1081-B Morrison Drive, Charleston. Learn more at edmundsoast.com/exchange.
The Spice & Tea Exchange
With cooler temperatures come gloomy days, but The Spice & Tea Exchange makes curling up with a book and a warm cup of tea even more enticing with alluring flavors like warm bread pudding and pumpkin chai latte. If you're starting to get the sniffles, they also carry an assortment of herbal teas with immune-boosting spices like ginger, turmeric and lemongrass.
Looking for a housewarming gift? With options like black truffle and chili lime, their collection of sea salts is a fun twist on the traditional gift of salt, bread and a broom!
The Spice & Tea Exchange is located at 170 Church St., Charleston, and spiceandtea.com.
Mercantile & Mash
If you're looking for locally made items, Mercantile & Mash has a wide assortment of both Charleston staples and new, unique finds.
One of the most quintessential Charleston brands, Geechie Boy Mill, is well-represented. The Edisto-based farm produces a variety of heirloom grains popular in restaurants across the country, and their blue grits easily transform the most basic dish into a showstopper with their beautiful color.
They also carry a plethora of must-haves for the aspiring mixologist, or those simply looking to step up their cocktail game. Brunch lovers can raise the bar with an entire section dedicated to bloody mary mixes, including Natural Blonde, a gluten-free mix made with fresh, local yellow tomatoes, giving it a striking golden hue.
Stop in at Mercantile & Mash at 701 East Bay St., Charleston, or find them online at mercandmash.com.
Lowcountry Olive Oil
At Lowcountry Olive Oil, the selection of oils and vinegars seems almost endless! Utilizing oils from family-owned farms, they are the only shop in South Carolina that flavors their products on-site. Olive oils are available in numerous tasty variations from blood orange to mushroom sage, and vinegars run the gamut from fruity blackberry and fig to decadent bourbon and Market Street pecan praline.
If you're looking to put together a Charleston foodie gift basket, they also carry a wide range of local gourmet foods.
Lowcountry Olive Oil has two locations, 272 A Meeting St., Charleston, and 103 D Main St., Summerville. Learn more at lowcountryoliveoil.com.
Beef Jerky Outlet
Before visiting this meat mecca, I was only familiar with run-of-the-mill beef jerky: tough, salty and perfect for the outdoors. While traditional jerky is a staple at the Beef Jerky Outlet (in lots of exciting flavors), their smoked variety is softer and more tender, turning jerky into an everyday snacking must-have! A staff favorite, the smoked Cajun BBQ Biscuit jerky is sweet and spicy, and transports you to a Louisiana backyard cookout.
In search of something a little more adventurous? They also offer a variety of alternative jerkies, including venison, elk, bison and smoked salmon.
Visit Beef Jerky Outlet at 85 S. Market St., Charleston or at www.beefjerkyoutlet.com/charleston.
By Lindsay Bishop
0