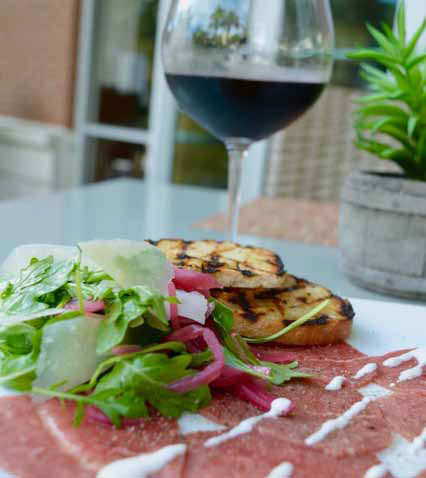 Who says you have to go all the way to Napa Valley to enjoy a delicious meal and a crisp, California glass of wine? Bringing the wineries to you in Mount Pleasant, Napa offers guests an elegant experience in a beautifully decorated yet approachable setting. While the wine is abundant – and literally flowing through temperature-controlled taps – it's the food that has people buzzing.
Executive Chef Ken Aponte has been with the company behind Napa for five years, moving to Charleston from Charlotte to open the Mount Pleasant location in December 2017. Since then, the Puerto Rico-born and North Carolina-raised chef has worked with a team to collaborate on seasonal menus that are exciting the taste buds of locals.
"We work together to come up with great menu ideas that can fit both restaurants and then adapt them to enhance their flavor profiles using local items. For example, instead of using Little Neck clams, we are able to get clams from just about 30 minutes down the road, staying true to our menu concept but also our dedication to the local markets," he explained.
"Our food is Italian-influenced, contemporary California cuisine, and we make most of it from scratch. Pasta, meatballs, breads – if we can physically get it done in our space, then we are going to make it ourselves," Aponte said.
While making the food in-house is impressive, it's his approach to food being "simply delicious" that seems the most inspired.
"I like to take regular dishes that customers are accustomed to eating, such as shepherd's pie or Caesar salads, and put a spin on them. By transforming the food, I'm able to give them meals they've had before but change the way they see and experience it," he added.
One way Aponte and his team at Napa are able to do that is through special holiday menus – such as Mother's Day and graduation menus – or their wine dinners, which are quickly gaining traction.
"We have great relationships with the winemakers in California, so once a month we have a chef menu tasting dinner that lets us have fun and stretch their imaginations without making the food impractical to eat, while, of course, pairing it with a delicious glass of wine," Aponte pointed out.
With a seasonal menu in play, customers are eager to stop in, knowing full well that the ingredients are always at the peak of freshness. If you're dropping by this summer, you can expect to find a lemon gnocchi and shrimp dish or sautéed mussels with grape tomatoes, leeks and a white wine butter sauce – both of which scream sunshine in the summertime.
With happy hour Sunday through Friday from 4 p.m. to 7 p.m., ladies' night the last week of every month and Wine Weekdays Monday through Thursday, offering half off select bottles of wine, there's truly something for everyone to enjoy at Napa Mount Pleasant.
To learn more, visit www.napamtpleasant.com or call 843-900-6277.
By Krysta Chapman
0