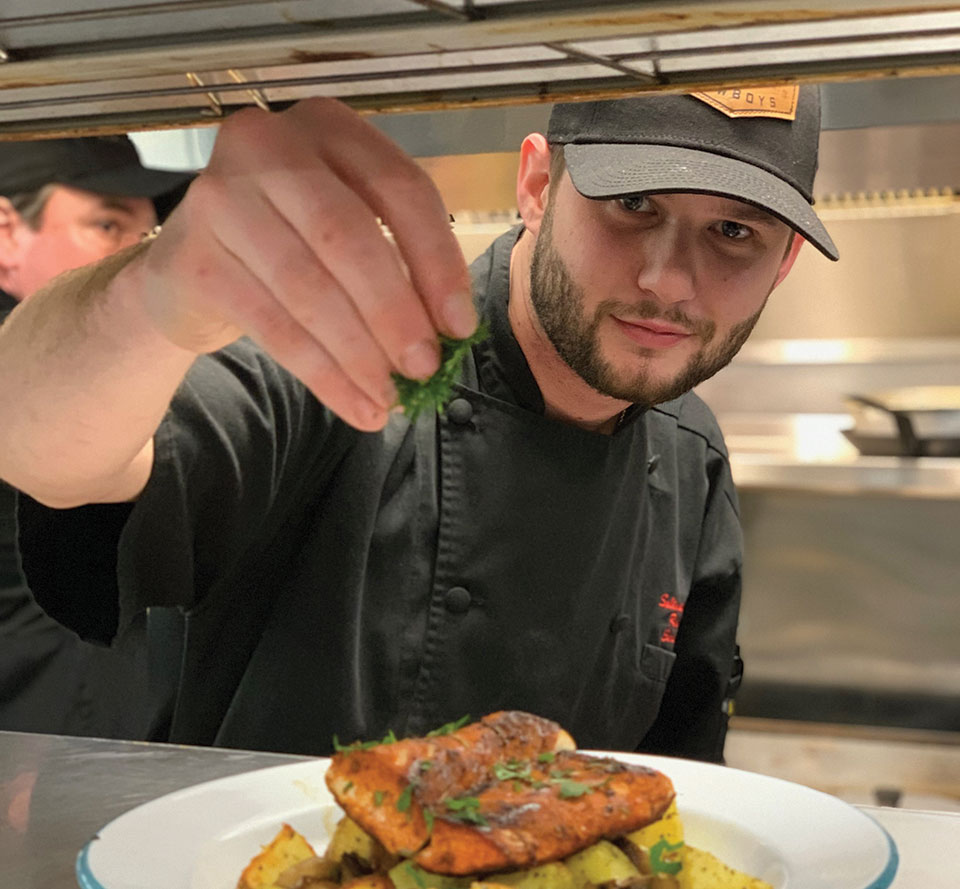 Saltwater Cowboys made a big splash in Mount Pleasant last March when it opened with a concept of both fresh seafood and great smoked barbecue – complete with cooling cocktails and a bevy of waterside seating. As they enter year two, Chef Ryan Love continues to keep his menu condensed to the foods he does best, with ingredients he can source locally.
"I was raised by my grandmother and started cooking with her when I was 5 years old. It's been my passion ever since," Love reminisced. "Cooking Southern-style from scratch is very important to me – there's always been a big emphasis on things like fresh vegetables and seafood."
Love graduated culinary school from The Art Institute, formerly in Charleston, and was working as a sous chef at a local barbecue joint when owner Wade Boals handpicked him to become head chef at Saltwater Cowboys. Combining his skills in both seafood and barbecue had Mount Pleasant diners hooked as soon as the doors opened.
"We only do what we do if we can do it right," Love continued. "That's why our daily menu is limited to what we do best. Our specials are where we get to be creative, based on what's fresh and available."
Customer favorites like the fried shrimp and grouper fingers further proves his point.
Love and his team of sous chefs take advantage of their creek-side location, walking next-door to visit Mark Marhefka at Abundant Seafood to see what they're catching and then ordering accordingly. A few more steps down the docks, they check in with Tommy Edwards, owner and captain of the shrimp boat named Playboy. Love only buys white shrimp, which are headed and peeled in-house.
"It's relationships like those with Mark and Tommy that really make a difference," Love added. "This year, we've pre-bought 1,500 pounds of white roe shrimp from Tommy. He had some nets to repair in the off-season, so pre-buying provides him the funds to fix those nets, and we get the first pick in the upcoming season. It's a win-win."
The white roe shrimp – expected to come in early April – are large shrimp that have been spawning and tend to be sweeter and more tender.
This year, Saltwater Cowboys is adding a pearl to their seafood options: an oyster bar on the outside deck that serves a variety of in-season oysters, shucked to order.
On the turf side, Love follows the same mantra of sticking to what he does best. He uses a blend of oak and hickory to run the smokers – which start in the predawn hours and run all day, smoking wings, turkey, sausage, ribs and pork, served fresh and often incorporated into the specials.
The icing on the cake is their small-by-design dessert menu of three tried-and-true favorites. The key lime pie and Love's grandmother's chocolate chip cookie recipe – baked to order in a cast-iron skillet and then topped with ice cream and chocolate drizzle – can satisfy even the sweetest of sweet tooths, but the biggest dessert seller is owner Wade Boals' Grandmomma Carol's Coconut Cake.*
"Food brings everybody together – that's my favorite part," Love said. "It's what inspires me here; we do it well, and we do it fresh and local. It really takes me home."
Want to make it at home? We've included Grandmomma Carol's Coconut Cake recipe in our Chefs' Recipes section.
Saltwater Cowboys is located at 130 Mill St. on Shem Creek in Mount Pleasant. To learn more, visit www.saltwater-cowboys.com or call 843-856-0700.
By Anne Schuler Toole
1